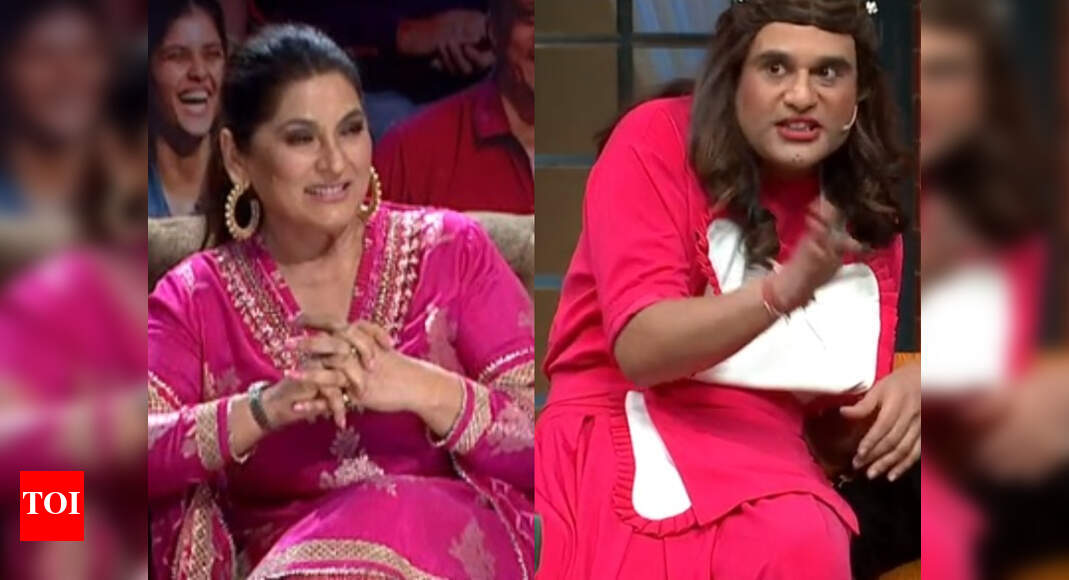 The episode of The Kapil Sharma Show begins with Kapil Sharma and Archana Puran Singh discussing cricket, and joking how it is played in the village. Kapil pulls Dinesh's leg. He welcomes the young players Axar Patel of Indian Cricket, Nitish Rana, Ravi Bishnoi and Rahul Tewatia.
Kapil congratulates them on their performance in the Indian Premier League (IPL) without any cheerleader. He names Archana Puran Singh as his motivator and cheerleader.
Nitish says he has always wanted to come to this show since he started watching this show. Kapil jokes that MS Dhoni and Sachin Tendulkar still don't have the chance to come on TKSS.

Akshar told that he was not interested in playing cricket, wanted to become an engineer, but his father forced him to play cricket. Nitish said he is obese and that his uncle made him learn cricket and asked him to just run, without a hit and bowling. Gradually, he became interested in it and his father encouraged him to do so.
Nitish says he doesn't meet those relatives who demotivate him. Ravi also began his cricket journey from his region. Rahul also revealed that his family supported him to continue in cricket.
Akshar revealed that he was inspired by Yuvraj Singh. Nitish took the name of Gautam Gambhir.
I went with a mummy to London to auction. My mother was sitting with Mr. Yuvraj's mother. Mr. Dhoni touched mother's feet and she asked for his name. Dhoni took his name and Kapil's mom said my son's boy name is also Mahinder. Sachin also touched his feet and she said, "God bless you." But she did not know that he was Sachin.
Ravi is inspired by Anil Kumble and Rahul learned a lot from Yuvraj Singh and learned bowling from Shane Watson. Nitish said he always dreamed of getting a love marriage at an early age. He still does not know the reason behind this decision.
Axar revealed the story behind his name spelling and pronunciation. Kapil praised Ravi for being successful at the age of 20. Axar revealed he would secure a 90 plus percentage, Kapil said he only secured in 40s.
Rahul started his cricket training very young. Kapil asked him if he would wear a diaper and go for his practice session. Rahul jokingly said that during those days we didn't know what a diaper was, our sheets would change, not diapers.
On top of that, Kapil revealed that when Anayra was coming, Ginni asked him to get a crib, and he couldn't understand what that meant. He then asked Ginni if ​​babies don't sleep on a bed, why do they need a bed.
Kapil also said that during their time, mothers will take a sheet, tie it from one end to the other, put the baby inside and make rots on the other hand giving a push to the sheet "jhoola".
Kapil tells Axar that his Instagram account is only full of pictures of his friends, and not even one girl in it. Axar says if the time comes, you will find out.
Krushna Abhishek and Kiku Sharda enter as school children playing cricket. They look for their ball and ask Archana, "Aunt, hamari ball yahan aayi thi kya?" She says, "Nahin." Krushna further adds, "Par humare Sidhu uncle aanewale hai, unse sambhalke rehna."
Krusna imitates Shah Rukh Khan.
Kiku says to Krushna, "Tera bahut sahi hai yaar, maama ne baat karna band kar diya toh jija lekar aa gaya tu."
Kapil joked that Archana had 86 pani cleaned on the cast once. This came after Nitish said he loves to eat a goal gappe. Nitish also revealed that if his match goes awry, he is watching The Kapil Sharman Show.
Kapil asks about the auction rates and how the cricketers are paid. Archana says, "Ab tujhe padegi Kapil."

Rahul tells a haunted story of Dharamshala. All four cricketers used props and crawled.
Axar reveals that Yuzvendra Chahal gives timely updates about his location and every little detail to his girlfriend via his phone with a click of selfies.
Sapna enters, says she and Axar were in a relationship, cracking ridiculous jokes. Sapna jokes about opening a pav bhaaji, seven puri booths at their crevice on the cricket field.
She introduces a guard massage and no ball massage. Sapna makes them all dance with her. Kapil thanks everyone and wishes them good luck.