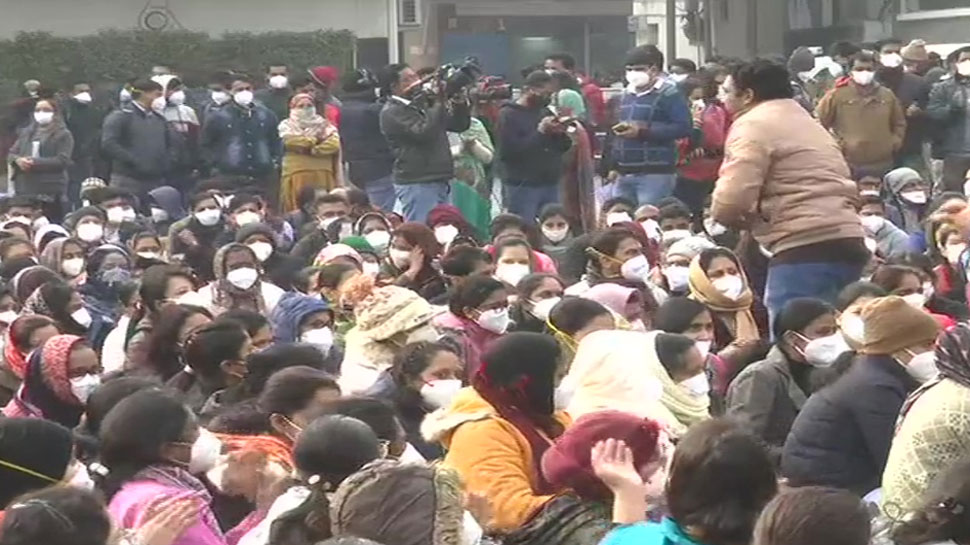 New Delhi: The Nurses Union has started an indefinite strike at the All India Institute of Medical Sciences (AIIMS), the largest government hospital in the country's capital Delhi (Delhi). The nurses' union says they have many demands that the government and the AIIMS administration do not accept. In that case, they have no choice but to go on strike. Due to the strike of the nurses, the difficulty of the patients has increased in the AIIMS of Delhi. The nurses' union alleges that the AIIMS administration is not ready to talk. Here, the Ministry of Health said that action will be taken against those who disobey the order of the High Court.
'Even after a month, the government did not accept the demands'
Harish Kumar Kajla, president of the AIIMS Nurses Union, said he did not want to go on strike. But even after one month, the government and the AIIMS (AIIMS) The administration did not heed their demands. Due to which the strike which started from 16th December started from 14th December. Kajla warned that the strike would continue until his demands were met.
Video
AIIMS has 500,000 nursing staff
The problem of hospitalized patients will increase as the nurses' union goes on indefinite strike. Currently AIIMS (AIIMS) employs about one thousand nurses. This includes both female and male nurses. This staff admits hundreds of patients to AIIMS. In such a situation, the AIIMS administration may find it difficult to handle the situation due to their sudden strike.
'True nurses never leave a patient'
Dr. Randeep Guleria, Director of AIIMS (AIIMS)Dr. Randeep Guleria) The sudden strike of nurses has been described as unfortunate. He said that during the epidemic, true nurses could not go on strike. The nurses' union should not go on indefinite strike at such a time. He said that we are hopeful that the true nurses of Florence Nightingale will never leave their patients, just as the true nurses of AIIMS will never leave their patients.
ALSO READ – Delhi: Fog Alert, AIIMS Capital, Corona Infection Rising Due to Pollution
'Most demands of striking nurses accepted'
Dr. Randeep Guleria said that there are mainly 233 demands for nurses. These governments and the AIIMS administration have acknowledged. In any case, the nurses went on strike, making it difficult to care for patients. She appealed to the nurses' union to end the strike and return to work. But his appeal has had no effect on the union. They are still adamant about their demands.
Live tv