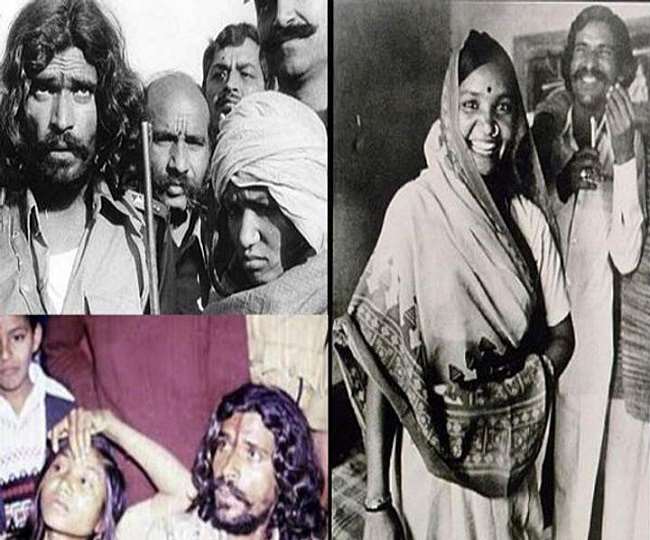 Kanpur Rural, JNN. Again, the story of a woman who was determined to occupy her mother's land, but the day came when the country was known as the Queen of Bandits. We are talking about Dasyu Phoolan Devi from Behmai village in Kanpur rural area. He was sentenced to 11 years in prison during his lifetime, after which he contested for the Samajwadi Party MP's ticket. In this episode of the Behmai case, we tell you what were the reasons that forced a 10-year-old girl to go into crime first and then into politics.
Pran had captured the constipation of his parents
Phoolan Devi was born on August 10, 1963 in Ghura Kapurwa, Jalaun district, Uttar Pradesh. Here she lived with her mother Mula Devi, father Devidin and three siblings. The story is that the family had only one acre of land. He was arrested by his uncle Myadin Mallah when Phoolan was only 10 years old. Seeing his parents talking, when he found out about it, he could not see the grief of his parents. Only then did he decide to take over his uncle's land. This promise taken as a child leads him to the path of crime that one day he will be in society 'Bandit Queen' The flower may not have even thought in a dream.
Also read: The dacoits were Rani Phoolan Inspector and IG Malkhan, dressed as khaki rude dacoits.
Uncle was sent after becoming a girl-bride Was Prison
Phoolan's father could not bear the anger of his 10-year-old daughter and his uncle. As a result, she married Putilal Mallah, who was 10 years older than Phoolan. Shortly after the marriage, she ran away from home after being tortured and physically abused by her husband. Her uncle Myaddin then sent Phoolan to jail on charges of theft. He then had to spend three days in jail. When she got out of jail, family members drove her crazy and sent her back to her in-laws.
… when it first happened Bandits Face
Fulan visited her mother-in-law again. He had to face the same atrocities that he had suffered before. The only difference was that this time the dictatorship crossed all boundaries. After which Phoolan planned to run away from home and succeeded in doing so. Perhaps it was her misfortune that the victim's father, Gujar, abused her tortured uncle and husband. Which was disturbing Phoolan in a frightening way. When he tried to rape Phoolan, Vikram Malla, who robbed his gang, protested and killed his father.
The gang called itself and some the 'bandit queen'.
Seeing Bikram kill Babu Gurjar, he got more confidence. In addition, he promised to take revenge on all those who were forced to shed tears of blood, except to form his own gang. Her 0-year-old husband, Mr. Phoolan, became the first victim of the outrage that transgressed all bounds of misconduct. Phoolan, along with her gang, not only attacked her husband's village but also brought him out of the village and stabbed him. At the same time, the assassination of Babu Gurjar provoked a group of Thakurs. Shri Ram Thakur and Lala Thakur were on fire in exchange for flowers. One day, after meeting Phulan with his gang, a team of Thakurs killed Vikram Malla. They then kidnapped Phoolan and exploited him. It is said that to avenge this, the Phoolan gang went to Behrami in search of Shri Ram and fled and killed 20 villagers.
Also read: Plaintiff Raja Ram of Behmai case dies, 20 people are killed by slave girl Phoolan Devi
Enter politics like this
Apart from the Uttar Pradesh and Madhya Pradesh governments, other dacoit gangs made many unsuccessful attempts to capture Phoolan. In 1983, the government of then-Prime Minister Indira Gandhi agreed not to hang him. Phulan then agreed to surrender. Phoolan Devi surrendered with her fellow dacoits on 12 February 1983 to the then Chief Minister of Madhya Pradesh Arjun Singh, SP RK Chaturvedi of Bhind in a crowd of 10,000. He spent 11 years in prison and in 1991 the Mulayam Singh government dismissed all charges. The next year, she was released from prison. Rejecting the frightening trend, Phoolan started a new innings of her life by marrying Umaid Singh. In 1996, he became an MP from Mirzapur on an SP ticket and settled in Delhi. 1 was defeated in 1998 and won by a majority last year. On July 2, 2001, Phoolan Devi was shot dead by Sher Singh Rana at the gate of her Delhi home.
Also read: The accused in the Behmai case are still out of police custody after years of questioning the functioning of the administration.
Download the Jagran app and get all the news of employment alerts, jokes, shayari, radio and other services news.