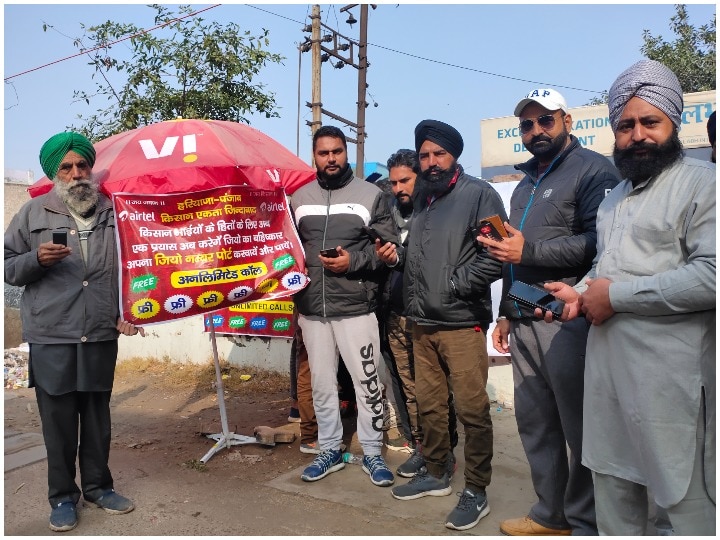 New Delhi: In the midst of the peasant movement, a series of accusations and counter-accusations have started between the three major telecom service providers of the country. Geo has accused the telecom ministry of snatching its customers at Airtel and Vodafone Idea. According to Geo, during the Airtel and Vodafone farmers' movement, farmers have been talking about boycotting the Geo number and transferring the number to Airtel or Vodafone Idea. However, Airtel and Vodafone have also categorically denied the allegations.
But the pictures taken on the camera of ABP News during the farmers' movement also make it clear that even though the company is not standard, the work of porting numbers from Geo to Airtel or Vodafone Idea is going on openly. Would have
Porti work is underway at the Delhi border
Port work is underway under the umbrella at Delhi's Ticker Border. In the research, we found that this work is going on under the umbrella, the umbrella given to the distributor for marketing through Vodafone Idea or V. The banner hanging above this umbrella has the Airtel logo on it and it is clearly written on the banner to make the peasant movement a success, boycott the number of Jio and port your number
Not only that, the person working to port the number here, when ABP News asked him who he is and what company he belongs to, then the person present there said that he is a distributor and he has three contacts. Are present. But people are trying to portray Geo's number because of the peasant movement and he is helping them.
People explained why the number was being ported
After this, there were many people who were waiting for their turn to port their number or Jio's port was numbered. Talking to ABP News, the people said that they are involved in the peasant movement and have gathered here to make the peasant movement a success. People were saying that the government has made three laws and its direct benefit will be given to industrial houses, they are protesting and on the contrary they are porting their numbers from Geo to Airtel or VV.
This means that the pictures taken during the peasant movement are pointing to the fact that people are moving from Jio to Airtel or Vodafone Idea with their numbers. But it is also not clear whether to boycott Geo and port your number, this banner is in the knowledge of Airtel and Vodafone Idea i.e. V Company. Because these banners are placed on behalf of local distributors and they are also producing porti numbers.
The Delhi government will launch a campaign, checking high security number plate-color code stickers
During the discussion on the cow protection law, there was a lot of commotion in the Karnataka Legislative Council.