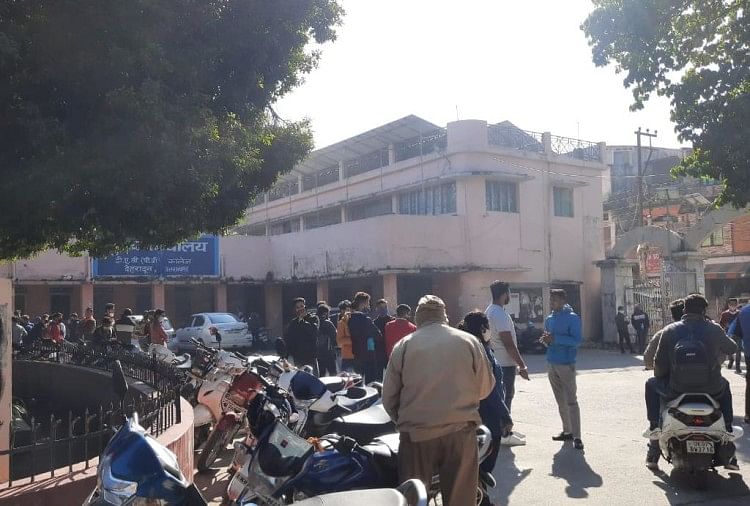 Abstract
Parental approval is also required, colleges will currently have practical classes, theory classes will be conducted only online.
Detailed
Higher educational institutions have opened in Uttarakhand since Tuesday. Today, DAV, DBS, SGRR and MKP PG Colleges in the capital Dehradun have opened for students. However, now only practical students are enrolled.
A large number of students have come to DAV College on the first day, but classes are rarely held. On the first day, most students did not come with parental consent. The format is being given to these students. It will be given only after submitting the letter as soon as the class is submitted.

The same situation exists in DBS, SGR and MKP PG colleges. Problems are also coming up on the first day due to lack of clear class schedule in colleges. Many students are admitted, but students are forced to spend time on college campuses and on the grounds because there are no classes.
Other preparations including sanitation were completed
Other preparations including sanitation were completed at Premier College DAV, DBS, SGRR and MKP PG College in the capital Dehradun.
Under Corona's influence, students are being admitted to colleges and universities with strict rules. Corona test report will be mandatory for students from other states. State students have been provided relief.
In addition, all students must bring parental consent. However, in the initial stage, only experimental classes are conducted in colleges.
Theory classes will run online. Departments (faculties) are called shift-wise in many colleges and in many colleges half the students follow social distances. At the same time, the date of opening the technical college is not clear.
Doubts about the involvement of 11th class students in coaching
Students of 11th class will also participate in JEE and NEET coaching started by the Department of Education in government schools. So far, only 12th graders are benefiting, but 11th graders are not allowed to come to school. There is great doubt as to how many students are enrolled in the coaching class in these 11 classes.
Seema Jaunsari, Director of Educational Research and Training, inaugurated a coaching class at Rajiv Gandhi Navodaya Vidyalaya (Nanakurkheda) on Monday. He said that offline coaching could not be conducted this time due to coronal.
Coaching will be done in schools through virtual medium. The center of coaching is Navodaya Vidyalaya in Nanakurkheda. Along with this, schools in hilly districts will also be connected. He said that more students of class 11 will also be added to give the benefit of training to more students. The purpose of this scheme is to provide free coaching to the needy students of government schools so that they too can prepare themselves for government service.
Read on
Other preparations including sanitation were completed