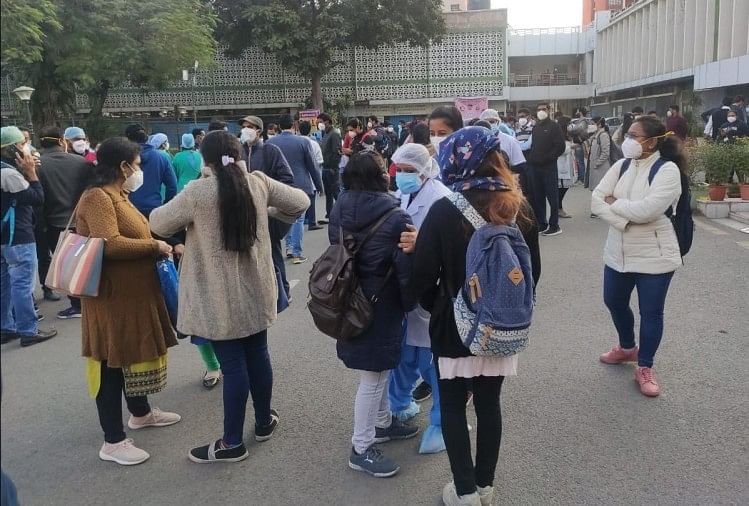 Amar Ujala Network, New Delhi
Updated Mon, 1 Dec December 2020 0: 3 :: 39 pm IST
AIIMS nurses strike
– Photo: Amar Ujala
Nurses workers have been on strike at the Delhi AIIMS for a long time due to the Corona epidemic. On Monday, nurses quit their jobs at the Delhi AIIMS and began protesting on campus. The workers went on strike that afternoon.
The nurses' union alleges that the AIIMS management and the government ignored their demands. If their demands are not met, they will be on indefinite strike from December 1. Meanwhile, news of the strike shocked the entire AIIMS. The strike did not affect the OPD or the emergency department, but it did create problems for the treatment of hospitalized patients.

For this reason, the director of AIIMS, Dr. Randeep Guleria reached the video message union in the evening. Dr. Guleria says the management and the government have accepted all the demands of the nurses' union, but not a single demand has been met. The demand to increase the salaries of the employees was emphasized on the recommendation of the Sixth Pay Commission which is not possible now. Management is working in this direction, but in the midst of an epidemic where everyone is fighting a war. In such a case, the AIIMS strike will not only tarnish the image of the AIIMS, but also cause problems for the patients. Harish Kumar, president of the AIIMS Nursing Union, says his demands have been discussed with management for a long time. A month ago, the union gave management time to say that if the demand was not met, the employee would have no choice but to quit.
Harish says that AIIMS is an institution for every employee and doctor. They are also responsible for all the patients who come here. The Nurses Union does not want any hindrance in the treatment of the patient, but the management should also think about how they can contribute to the corona crisis day and night if the demands of the employees are not met.
AIIMS puts nurses on strike: union
Harish Kumar, president of the AIIMS Nursing Union, says outside workers have been called in on contract after an indefinite strike by nursing staff at the Delhi AIIMS on Monday. The Delhi AIIMS has temporarily deployed nurses to provide medical services to the patients.
He said AIIMS nursery workers have long been appealing to the health director or health director. Some time ago, the Director of AIIMS was also present with the Health Minister. All demands were accepted at that time but have not been implemented so far. Now that the nurses' union has started protesting, AIIMS management has invited workers from outside to sign contracts. This behavior of AIIMS management is not acceptable under any circumstances. On the other hand, the AIIMS management has not responded to the union's allegations.
Read on
AIIMS puts nurses on strike: union